Why from us
Trust proven by our users and authorized parties
An outstanding expertise
20 years of experience in various fields.
Excellent support
Confirmed by our users.
Smart approach
Using specially developed principles of 12S.
Complete legality
Verified by officials. D-U-N-S® number: 66-257-4601.
Globality
Worldwide orientation.
Trusted and loved by our customers
Expertise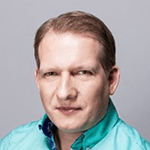 Pavel Nechaev, Seraphinite Solutions founder — an outstanding IT professional with about 20 years hands-on experience in key development of Core Bank Automation Software in relation to database management systems, Security Guarding Solutions, Statistics and Analysis Projects for Medical Services, Analytical Products for broad range Business Management. Expertise covers building framework platforms modifying actual IT technologies along with creation of new mechanisms to streamline various business models successfully applying them for B2C and B2B, for more than 100M+ users, for various international company sizes. Educational background includes Ph.D. in Computer Science and graduation from business school of startups management. Highly innovative with a strong will to achieve set objectives and best results.
People say about Pavel

Working with Pavel was always extremely rewarding experience – he never assumed, he asked and challenged, he was improving the quality of hypothesis by finding ways to combine different strategies and tactics thanks to his broad software development expertise. He is a person who's hungry for results.
It is very hard to find a engineer that thinks business-first, when planning and building the products. And Pavel is such a guy. Before every feature to create he calculated the expected business-impact, changed the initial concept if necessary, and then built the features in extremely lean and optimal way.
Principles of 12S

To achieve the best results, we follow a number of principles developed over many years for creating software solutions, which are listed below.

Speedy

High performance, low usage resource technologies are used to make solutions pure.

Safe

We care about usability and data.

Stable

We do all of my best to avoid any unstable behavior.

Secure

We care about your data and usage security.

Solid

One solution — one package.

Small

The solutions usу only minimum necessary system resources on your devices or sites. No any extras.

Smart

We care about value for you.

Sincere

We always provide only declared features and don`t do any hidden operations.

Strong

We try to create powerful solutions that cover all your needs.

Skillful

We try to provide wide specter of features.

Sensible

We care about usability to minimize interaction effort.

Serious

We produce professional solutions without any annoying extras.
Contacts

We will be glad to get any comments according to Seraphinite Solutions products.
info@s-sols.com
+371(271)60-7-93
EU, Latvia, LV-5410, Daugavpils, Zeļinska iela 25 – 35
VAT num.: LV40203230073