The plugin allows track files downloads in specific site's relative path by sending statistics to Google Analytics and the Local Database.
Settings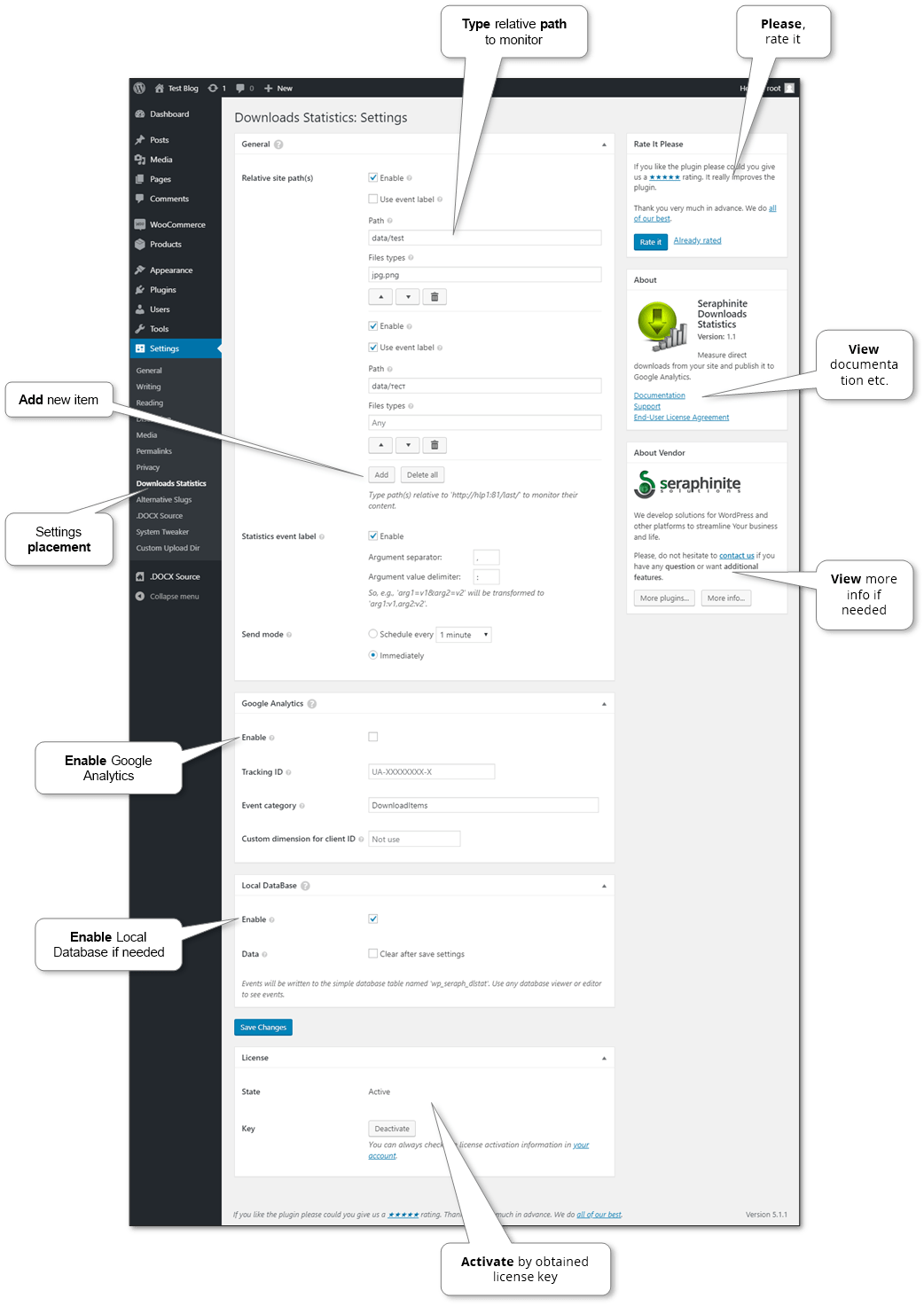 General

Relative site path
Statistics event label

It is possible to use URL's arguments as a statistics label. Label will be formed from a list of request's arguments using the argument separator and the value delimiter.

Enable

Check to use it in all paths. Each path can enable it separately.

Argument separator

Separator between arguments.

Argument value delimiter

Separator between argument's name and value.

So e.g. for URL 'http://yoursite.com/page?arg1=v1&arg2=v1' in case of 'Argument separator' = ',' and 'Argument value delimiter' = ':' label will be 'arg1:v1,arg2:v2'.

Send mode

By default statistic sending is postponed to preserve site performance. If there is any trouble with WordPress's scheduler (e.g. WP Cron is disabled or broken on your website) just set mode to 'Immediately'.

Note: There is the alternative way how to setup WP Cron on your site.
Google Analytics

If enabled, statistics will be sent to Google Analytics account by specified tracking ID as events with specified event category, URI as event action and URL arguments as event label if it is enabled in general settings.
Local Database

If enabled, statistics will be written to the local database table with name 'wp_seraph_dlstat'. Use any databese viewer or editor to see events. It is used generally for debug purposes only or if there is no any other way.
API

There are a set of filters and actions to hook.
seraph_dlstat_prepare_events filter
seraph_dlstat_event_label_format filter
seraph_dlstat_items_download_requested action
seraph_dlstat_ga_prepare_event filter
Requirements

WordPress 4.0 or higher.
PHP 5.4 or higher.
Browser (Google Chrome, Firefox, IE).