Currently Wi-Fi is a very common method of communication. It can be found anywhere: cafes, airports, shops, our homes. In our lives we must know how to turn on Wi-Fi.
If the module itself Wi-Fi is turned off physically, then we will not be able to connect our Windows or Mac computer to Wi-Fi via the operating system interface. Therefore, it is important to understand how to enable it.
The device's Wi-Fi can be activated either by a key on the keyboard, or a special button on the case. Rarely there is special enabling software from the vendor of laptops (in our lab we ran into this on models Samsung® – it was a special icon in the system tray).
Enabling via keyboard#
Usually this is done in special 'function' keys. Need, hold down the "Fn" key, press the similar function key with the icon of Wi-Fi.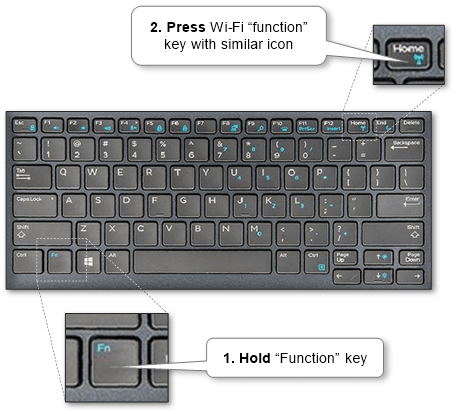 To turn off Wi-Fi, you need to press this key combination again.
Enabling by a special button on the case#
A special button may look different depending on the model. This is usually a switch. See the examples below.