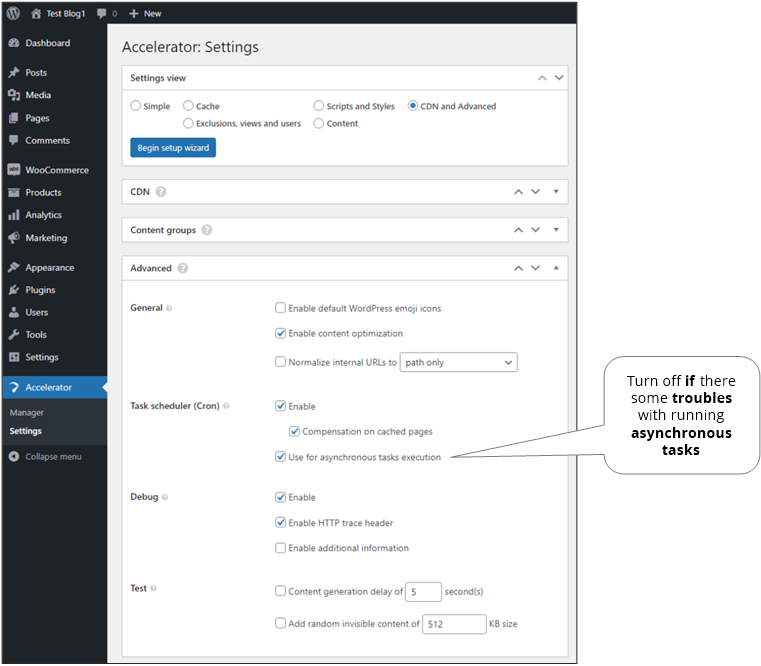 General#
Enable default WordPress emoji icons

Turn off this option to remove WordPress emoji icons from the frontend.

Enable content processing

Turn off this option if there is no need to use all content processing optimization features (scripts, styles, media and HTML). In particular, it is used while troubleshooting the site.
Task scheduler (Cron)#
Compensation on cached pages

Forces Cron running to keep work of scheduled tasks. If hosting doesn't support non-blocking request execution then /wp-cron.php request is made on frontend.
Debug#
Enable

Enables special mode to using page's seraph_accel_proc parameter.

Enable HTTP trace header

Just enables special headers in HTTP response to monitor correct working of the content processor (X-Seraph-Accel-Cont) and caching system (X-Seraph-Accel-Cache).

Enable additional information

Enables additional debug information in content processing while troubleshooting the site such as script and styles original names. Also, it adds some server request information into X-Seraph-Accel-Cache header.
Test#
Content generation delay

For testing influence of long content generation to the server and caching plugins.

Add random invisible content

For testing influence of large content to the server and caching plugins.