It's one of the best cache plugins for WordPress, maybe the most – the decision is on your side.
Setup#
The product is designed as an automatic WordPress optimization engine and it starts working just after installation. But sometimes it still needed to be fine-tuned or troubleshot on particular sites.
If optimization doesn't work#
Please, run self-diagnosis in Setup Wizard – it should show any issues that prevent from work. In most cases external caching or some blocks on server can cause this.
If content is in inappropriate state in first loading time#
In many cases it can be corrected by CSS. If it doesn't help or not applicable the scripts delay can be decreased to 0.1 second but it can significantly reduce score.
Work mode#
It works in automatic mode. When posts are changed then the related cache will be updated automatically.
When to update the cache#
Only when some common thing is changed (theme, styles, menus, …) then cache should be updated manually. Or it will be updated after cache's time to live for auto-revalidation is expired.
Optimization requires time#
If content is non-optimized or not actual, we need wait for optimization ending. It always can be checked in the optimization queue. Particular optimization time depends on page complexity and server speed. Total optimization time depends on how many pages on your site – it is taken by default from sitemap.
If there is a need to see all changes immediately the 'Always up to date content' mode should be chosen in Setup Wizard. Otherwise, the 'Always a high score' is recommended.
Warning. When 'Always up to date content' mode is used pages sometimes can be in not full optimized state due to revalidation. So, score from PageSpeed (including Google Search Console), GTMetrix and other speed measurement tools can be low at corresponding time intervals.
Optimization requires CPU#
Good optimization requires CPU resources due to all processing happens on current server (no any external slow and expensive clouds). So, if hosting warns about reaching limits of CPU usage then the plan should be upgraded or VPS used instead of shared hosting.
Operation state#
The working status always can be checked here.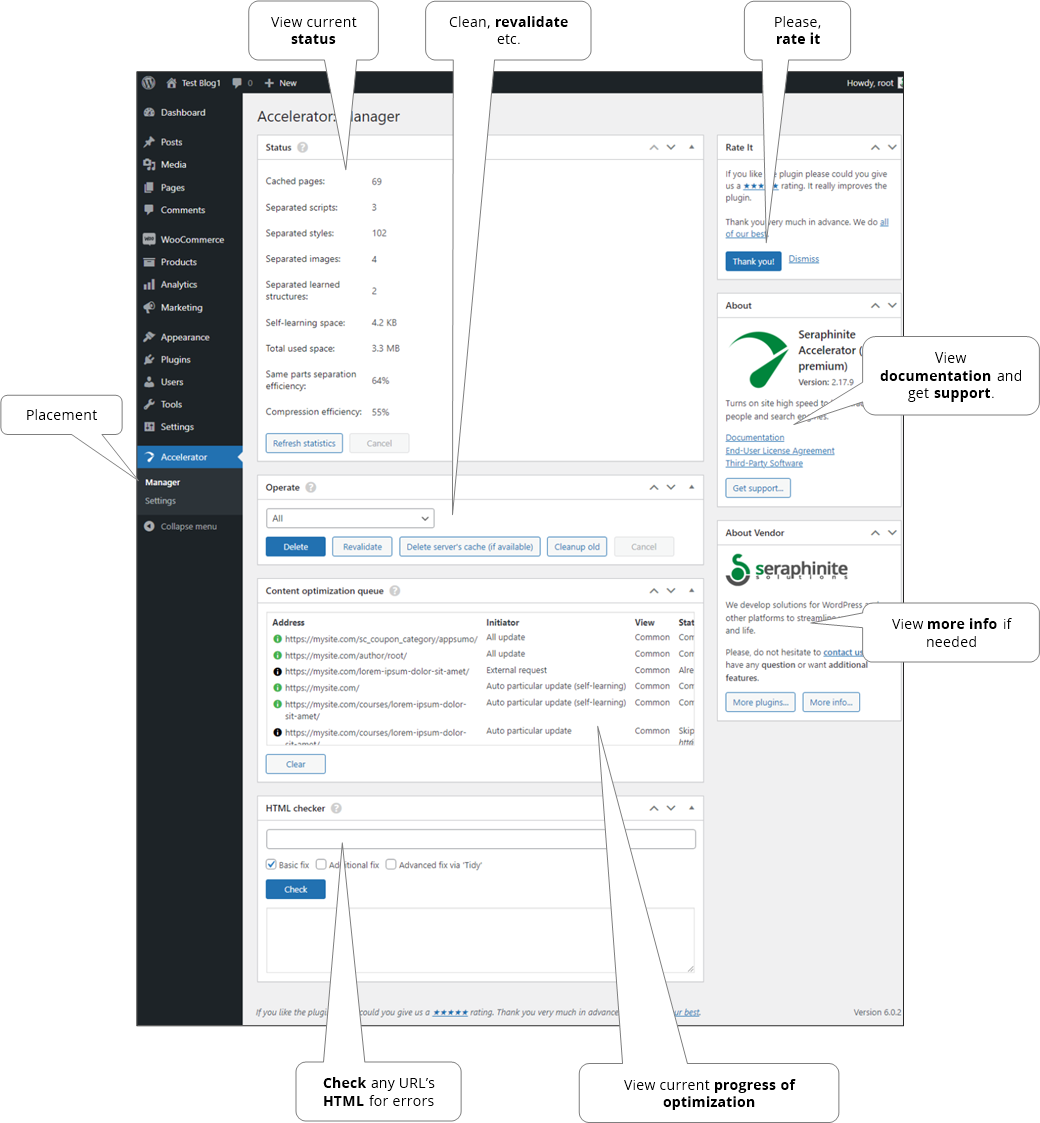 GDPR compliance#
The product is fully GDPR compliant. It does not store or access any personal data. Also, no cookies are added by it (excepting user caching mode). Also, there is some information about data exchange in End-User License Agreement for WordPress Plugins.
Requirements#
WordPress 4.5 or higher.
PHP 7.1 or higher.
Browser (Google Chrome, Firefox, IE).
Compatibility#